Research Activities
The facility is able to continuous monitoring PV modules electrical parameters and environmental parameters such as module temperature, irradiance on the plane of the modules, air temperature etc. Through these data it is possible to assess PV modules performances under the same field conditions through careful data analysis. Moreover spectral irradiance data can contribute to better understand the behaviour of new generation PV devices as thin film and hybrid-organic.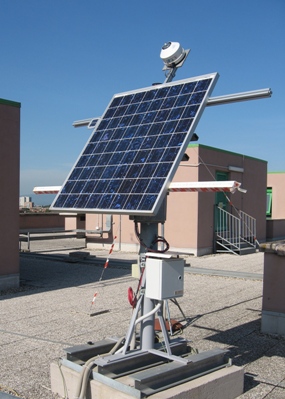 Main objectives of our research are:

Precise annual, monthly and daily energy production comparison of PV modules to give a better understanding on the real production differences among devices and among technologies.
Development of improved empirical models for predicting PV modules production.
Degradation assessments of different PV technologies and investigation of factors that influence their degradation by analysing results obtained from outdoor measurements.
Analysis of the effectiveness of integration of different PV technologies into the building structures (BIPV).
Development of empirical models for the evaluation of the solar radiation at the ground.
Dissemination of results and promotion of public outreach related to PV technology and its capabilities
Use of the facility as a teaching laboratory for the Master in Photovoltaic Engineering (MIF).