ESTER Facility
Welcome to the ESTER facility website. ESTER (Solar Energy TEst and Research) is an outdoor station built on the roof top of the Engineering building of the University of Rome Tor Vergata. It belongs to the Environmental Applied Physics laboratories and it is one of the facilities of the Centre for Hybrid and Organic Solar Energy (CHOSE).
Photovoltaic devices performances are mainly tested indoor, at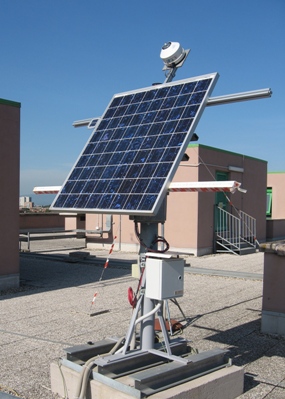 Standard Test Conditions (STC). However, these conditions are not representative of the real environment in which the device will operate. For this reason greater attention is now devoted to the energy production of PV modules in real environmental conditions. Moreover new emerging PV technologies such as organic photovoltaic need continous outdoor monitoring to better undestand their behaviour, durability and degradation in the real environment.
ESTER main activity consists in the outdoor monitoring of PV modules of various technologies for short, medium and long term tests, with a particular focus on the new emerging technologies. It was designed to give support to the development of Dye Sensitized Solar Cells (DSSC) and modules produced by CHOSE. It can also give services to third parties involved in the PV market.