Facility
It consists of three separate units: a solar-weather unit, a spectral unit and a PV test unit.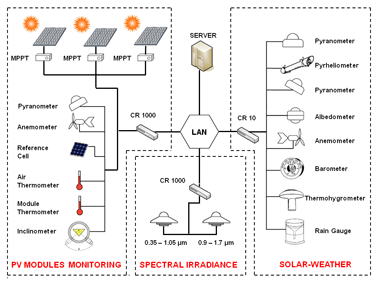 The solar-weather unit provides measurements of the three separate components of solar irradiance (direct, diffuse, reflected) and the global solar irradiance on a horizontal plane together with the standard weather parameters. The spectral unit, recently added, measures the spectral irradiance on a horizontal plane in the spectral range between 350 nm and 1,700 nm. The PV test part of the facility is provided with two stands that allow to expose approximately 8 modules of medium size. The stand n. 1 is a south oriented frame with variable tilt while the stand n. 2 is a sun tracker. Both stands are equipped with irradiance sensors (pyranometers and reference cells of various technologies) and have local weather stations installed nearby. Recently two other stands have been added to monitor flexible thin film modules on curved surfaces (stand n. 3) and to compare technologies on vertical facades with various orientations (stand n. 4).
The architecture of the data acquisition system is shown in the figure for the three separate units.
The Noria software has been conceived and built to manage the PV test unit data for an accurate retrieving through logical queries.